Author
Dougles Brown
Date
August 02, 2022
Category
Sale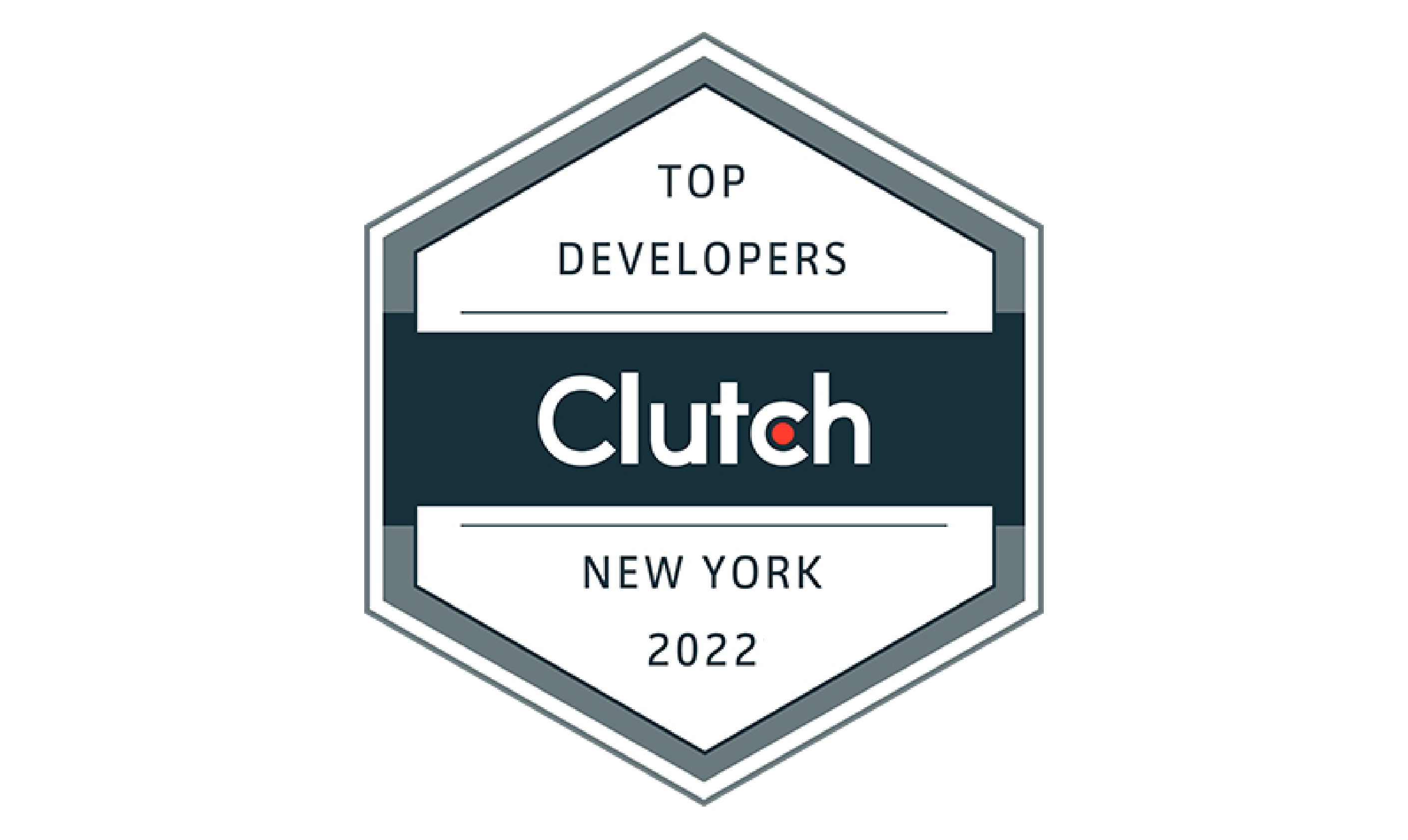 The world practice Give & Take.
When you give your efforts, expertise, skills, time, you eventually get your return on investment. CMOLDS experienced the "take" when an industry giant known as CLUTCH decided to reward CMOLDS as a top mobile application development company.
The App Development Company Clutch Praises
Clutch is a renowned platform for companies to find businesses. It is a B2B arena that allows several companies to do their needful assistance, support, and help.
With regards to an app development company Clutch follows a ritual of picking the best performers out of thousands. According to the news, this year's liberty to pick the best out of top app companies was a short call. However, CMOLDS outranked every other mobile app development company shortlisted and won the title.
CMOLDS – Top 'App Developer Company' Clutch Has Announced.
YEAR: 2022 – 2023
How Clutch picks mobile app development firms?
There is a separate parameter section that Clutch follows. However, the basic parameters considered for an app company to be evaluated are listed below.
Performance stats
The overall rating & reviews
Number of successful orders
Security of app
Delivery management
Designing standards
Quality measures
These are a few areas that companies consider during the evaluation process.
The secret of success – CMOLDS became a celebrated mobile app firm on Clutch.
The most popular question that we are encountering after the announcement of Top App Development Company Clutch proudly presents is; how did CMOLDS make it through?
CMOLDS – an app agency.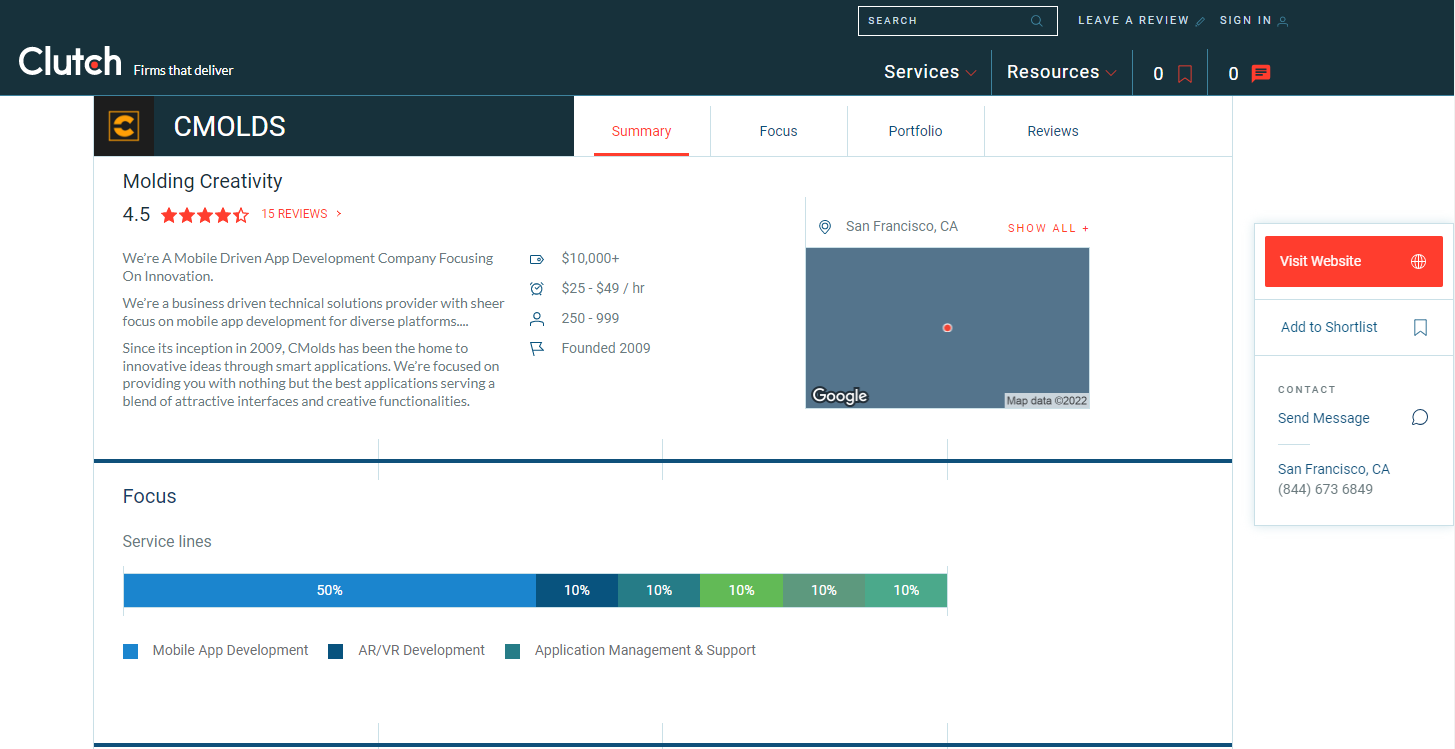 How CMOLDS won the title of 'Top Mobile Application Development Company' on Clutch?
A company of app intelligence.
CMOLDS was recently announced as the top company in application development Clutch shared this through its press release. The panel decision of Clutch Company was based on several constraints.
1.       The Performance Cycle
CMOLDS was outperforming for several years in the industry. Clutch critically reviewed the performance stats of CMOLDS, which are 9.25:10, and made quite an impression.
2.       Ratings & Reviews
The most recent review by a prestigious client of CMOLDS surely turned the tables.
"They were dedicated to even the tiniest details, and their code was very clean."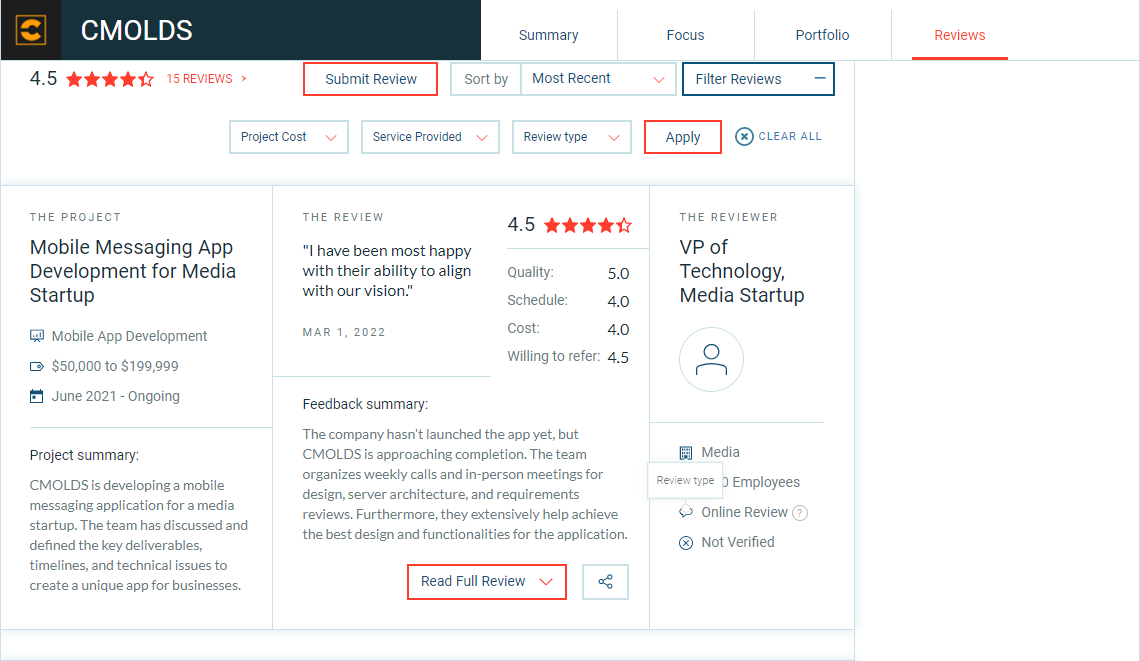 The team of Clutch phone interviewed our most recent client and got a positive response. When asked about their encounter with CMOLDS for the services, our client replied:
"I searched for companies online. They looked reputable, so I gave them a small test project. I was happy with the result, and I decided to give them more challenging work."
It was a turning point for the panel to discover the true potential of CMOLDS. Furthermore, all the other reviews were investigated and verified by the company itself.
Rated: 4.5 out of 5 on Clutch.
1.       Delivery Management
CMOLDS believes in on-time commitments and fulfilments.
We have been following our habitual criteria of delivering a project as per the commitments. The submission process does not get heavy on heads due to our accurate estimation of the project timeline.
Take a quick look at what our most recent client has to say about our delivery terms:
"We've had great feedback, and we're very happy with everything they delivered. They helped distinguish us, and they ensured the final product met our specifications. The price was very reasonable, especially compared to other agencies I've worked with. The quality of their work is also very good."
The feedbacks help us improve our services and positively influences our behavior.
2.       Designing Aspect
Among all the app development companies functioning from Clutch, CMOLDS is the most popular app designing platform.
We have a family of designers with 12+ years of experience in web and app designing. CMOLDS never restrict their designers and app developers from playing with their unique approaches. The 45% premium application development Clutch proudly presents goes to our state-of-the-art designs for mobile apps.
3.       Quality Measures
When one of our clients was investigated upon the improvement and quality measures by Clutch officials, they had the best response.
Are there any areas they could improve?
"They're very capable, and there's nothing I can think of they should improve. They offer a variety of services, and I appreciate having one vendor who can do so much for us."
However, there is always room for improvement. CMOLDS strives to become the best mobile app development firm through consistent and improved quality on every project.
A Short Glimpse On CMOLDS Achievements Till Today.
Since its inception in 2009, CMOLDS has come a long way.
The most recent achievements of our company are the title of 'Top Game App Developers' at topdevelopers.co and the title of 'Top Mobile Application Development Company' on Clutch.
CMOLDS takes every app project as a priority and remains consistent on quality, commitments, and delivery. Our large team of app enthusiasts covers designers, developers, engineers, project managers, marketing specialists, etc., dedicated to delivering the best of their expertise. Our willingness to deliver custom app functionality and a full-fledged mobile app design set us apart from the competition.
We are proud to be featured as the top app development company Clutch announced in New York for 2018 and also this year. It is an overall effort of our team and amazing clients from all around the globe. CMOLDS would like to thank Clutch.co and its clientele for such motivation.
We look forward to keeping the title and performing better than today. Stay Tuned.